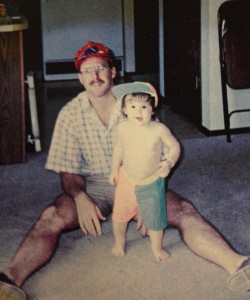 Life can change in an instant. We know this. And, yet when it happens and we lose someone we love, we know it deeply. Lately, I have watched many people lose their loved ones. I hear their words, read their tales and feel their tears mixed with my own. When we lose a loved one, we never wish we had said I love you less. We always wish we had said more, listened more, and loved bigger. This Father's day, let's acknowledge the dad's we know – whether they are ours or simply those we observe. Today, go find a dad to love. They are everywhere. Grab one if you have to. Tell him what he needs to hear. Appreciate the heck out of him. And, of course, love your own if you are willing.
Some of us are lucky and have the best fathers in the world. Others may not consider themselves so lucky. How about for this Father's day, we celebrate the perfect – as well as the imperfect fathers. Let's celebrate those that strive to do better as well as those who believe they can never measure up. And, let's cheer the spirit of what it means to be a father. At it's core, and whether or not it is "done well", fatherhood is a miraculous mission.
To the fathers out there,
As the first male figure to turn your attention to us, we bathe in the light of your love. We hope to follow in your footsteps as we march in your shoes around the house. We linger in the smell of aftershave that you leave on our cheeks as you kiss us goodbye. We rub your whiskered face and have questions about the world. We hear the base tones in your voice as they etch permanent music in our hearts. You show us what it means to be strong. You demonstrate bravery, courage and chivalry. We learn how to relate to other men as we grow under your tutelage. We form our views of the world based on your teachings. We learn about the masculinity of love.
I have been blessed to know many great fathers. Starting with my dad who brings wit, intelligence and the ability to see the richness and depth of the world. Who allows the troubles that exist to break his heart and form his soul. Who is able to love deeply and still be strong. Who is funny and warm to all of those he meets. My stepfather who loves us like the children he never had, who calls me out of the blue to offer a solution (or two) about something that is troubling me. Who loves my mom the way she has always wanted to be loved. Who is smart and funny – and has a twinkly rebellious streak too. My brother who is big, brawny and brave yet let's his heart crack open cavernously with his two beloved boys. He tosses them in the air and hopes they will find their wings to fly in the future. He knows the struggles he has faced in his life and wishes those boys could be spared any pain. He constantly strives to be a better dad – yet in the wanting, already is.
And, then I watch the husbands of my best friends' father their pairs of girls. I see heartbreaking love so great and patience so vast it catches my breath. I observe private moments, the brushing of fine hair into pig tales, grappling with a homework quandary, or tucking these precious souls in bed for the night with vows to protect them from anything ever that might come to harm them. I watch them both weep with concern as they watch their girls fall and laugh uproariously at their spicy antics. Fatherhood. It's ALL of it. These fathers won't do it perfectly, yet they are perfect because they do it.
Today, I invite you to write a letter to your dad telling him all the things you love about him. If you have to dig deep to find words, do it anyway. If you are estranged for any reason, consider being willing to write to him. Even if your father is the worst in the world, consider sending it anyway.
Life is unpredictable. You may not get another chance. Today, of all days, let's give thanks for ALL the Fathers.
After recently losing her home and all her possessions in a raging Colorado wildfire, Kristen is standing at the abyss, smack dab in the middle of the unknown. After 22 years as both a teacher and a student in the field of personal development, Kristen now gleans her wisdom through her writing, her radio show guests and the antics of her two giant dogs.
Kristen is the author of the best-selling book, Waiting for Jack: Confession of a Self-Help Junkie – How to Stop Waiting and Start Living Your Life, which explores our pervasive human tendency to wait instead of living our dreams. Jack Canfield of Chicken Soup for the Soul fame wrote the foreword to the book.
For more about Kristen, please visit: www.walkingthroughfire.com